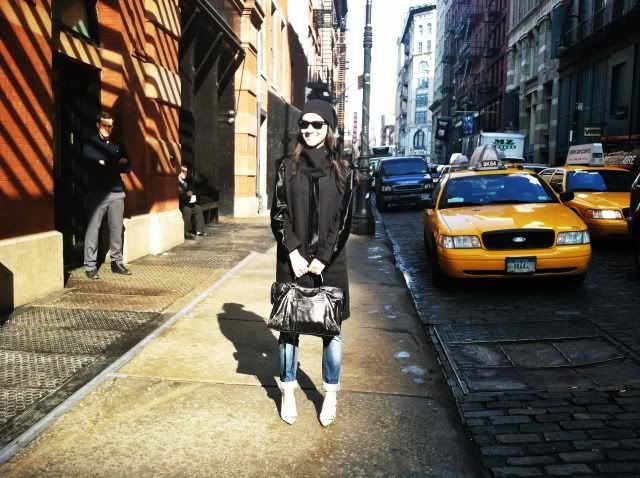 Hey everyone! Don't worry, I haven't abandoned ship or anything. Life's demands kept piling (and still are), so I had to take control and get shit done. Thank you for following and reading, despite the lack of updates. I'll still write and post, but not to the same extent as before. I do have a full-time job and that comes first.
As you can tell from the title of my subject post, I caved in to the Helmut Lang sample sale -- twice. I half-expected to be pushed and shoved in every direction, but none of that happened. No tantrums. No attitudes. No drama. Just excited and friendly Helmut Lang fanatics looking to score their favorite items for a ridiculous discount. I must've made 4-5x trips to the dressing room during my first visit. For some reason, I kept on finding MORE items on my way out, including this boxy coat. I wasn't sure what to make of it at first -- I knew I was intrigued. It was marked on sale for just under $600 (I received a 10% discount for tweeting about the sample sale!) from $1460. I loved its glossy haircalf details, slouchy funnel neck, and the boxy fit. It was exactly what I needed. I can easily layer another jacket underneath and it fits my chunkiest of sweaters. SOLD.
I also picked up this lavender silk shirt for $85, along with a leather skirt, print dress, and a short trench jacket. I did TOO well. During my second visit, I met the lovely Stefany from
Pretty in Thrift
in the changing room! We chatted in our unmentionables as we tried on our items, sharing our stories and experience with blogging and a little bit of everything in between.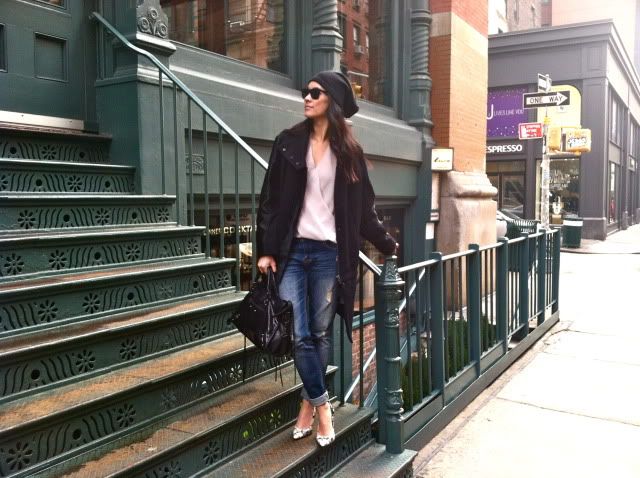 Coat (buy
here
) and shirt: Helmut Lang
shoes: BCBG (purchased at Marshall's, also worn on this post
here
)
jeans: Zara (old, buy similar
here
and
here
)
bag: Balenciaga (buy it
here
)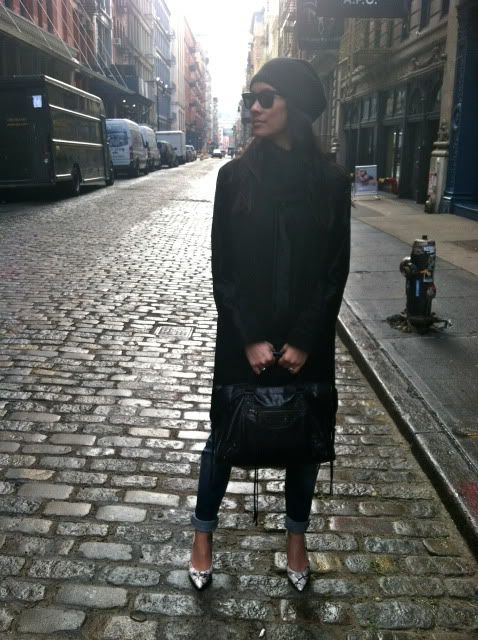 I had forgotten my camera this afternoon (hence cell phone quality photos). What kind of blogger does that?!? Cip and I took turns surprising each other with our Restaurant Week picks. I had chosen Lure Fish Bar that day and we took these shots prior to eating. You must think I'm nuts for wearing pointed toe heels around Manhattan, but I actually managed all right. After wearing boots for the last several months, I wanted to throw on some heels for a change. I taped my third and fourth toes together with scotch tape (you can also use medical tape if your feet tend to sweat), a trick I had picked up on the Today Show. As weird as it sounds, that shit works wonders. It makes your heels more comfortable and aligns some foot muscle, so that it allows the ball of the foot to be much more steady.
Do it. I'm every bit serious and passionate about this method.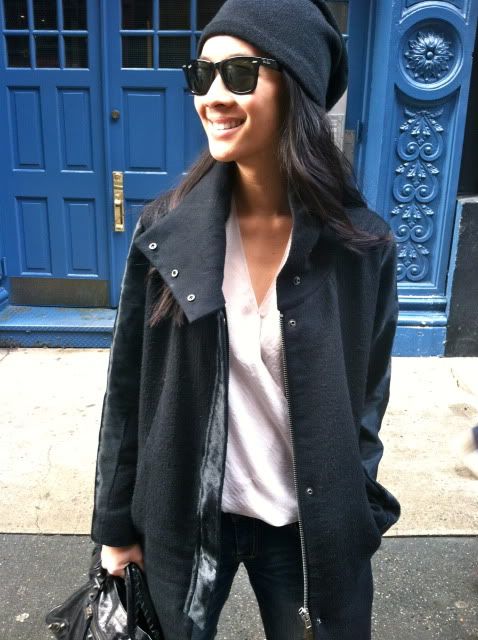 Happy feet.
Do follow me to stay up to date on my posts! Thanks so much!